CONTACT US
We reply you within 12hours!
We make the quotations within 24 hours!
HC-Mold (Plastic & Metal) International Co., Ltd.
Tel: +86-769-85327002; +86-769-23566161
Fax: +86-769-85391842
Email: [email protected]
[email protected]
Massager:


Molding
We build our molds to meet the highest customer standards for quality and reliability, designed to withstand high volume production with minimal maintenance. HC-Mold Maker has strict quality control with Production Part Approval Process (PPAP) report, incorporating scientific molding and statistical techniques.

We have capability of double injection molding, in-mold decoration (IMD), insert molding, over molding, rubber compression molding & secondary operations as required.

From commodity resins to engineering grades (mostly exotic), HC-Mold Maker can take on your most demanding plastics applications. Our knowledgeable staff has rich experience in the field. That experience, coupled with state-of-the-art equipment, enables us to determine exact processing parameters and accommodate the most technologically and dimensionally demanding applications. Close tolerance parts are our specialty!

Most of our quality material is from famous company such as GE, Dupont, GLS, Kynar, Solef, Victrex, Eastman, Sangsung, BASF, Bayer, EMS, Cheimei and so on.

We have rich experience of molding with materials such as ABS, FR-ABS(Sangsung Straex VE-0860T,GE FR15U), PC(GE Lexan 925A, 940A, Bayer Makrolon6555 V0, 6557), PC+ABS, PMMA, PA12(Grilamid TR55, Dupont Zytel 151L), PA6+PA66(Grillon TSM-30), PA66(Dupont Zytel Rynite 132F, 42A, KOPA KN333G30), TPE(GLS CL2242, 2042), TPR, TPU, PP, PPS(Fortron 0220A9 130A64), LCP(Ticona Vectra A700), PEEK(VICTREX 450G), PSU(UDEL P-1700), POM(Ticona Celcon M90, Dupont Delrin 525GR), PVDF(Kynar 720, 740, Solef 6010), PET(Eastman Durastar MN631, EN052), PBT(Dupont Crastin 6130, LANXESS POCAN B 3235 901510), MDPE etc.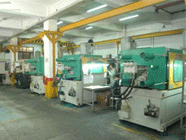 injection room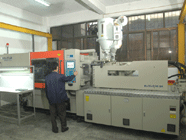 Double injection machine; 250 ton

Double injection part

PA12 imported from Switzerland